Herzlich Willkommen!

Die Arbeitsgruppe Bodengeographie/Bodenkunde gibt es in dieser Ausrichtung seit dem August 2005 am Geographischen Institut der Universität zu Köln. Schwerpunkte der Forschungsaktivitäten sind Arbeiten zum Verhalten von Schadstoffen in belasteten Böden und Untersuchungen zur Charakterisierung und zum Stoffumsatz von Böden mit (zeitweise) reduzierenden Bedingungen. Prozessorientierte Arbeiten und die Verknüpfung von Gelände- und Laboruntersuchungen stehen im Fokus der Arbeitsgruppe. Der Arbeitsgruppe steht ein modern eingerichtetes, 800 m2 großes Labor zur Verfügung.
Impressionen
graphic slider element
Analysis of litter decomposition in forest soils using the litter bag method

Incubation studies with manganese and iron oxide-coated IRIS tools in parallel with redox electrodes

Environmental monitoring to collect long-term data (e.g., redox and matric potential; image to the right)

Wordcloud of research interests

Nanoscale association of natural Fe oxides with soil organic matter and phosphate collected under in situ conditions

3D reconstruction of air-filled pores derived by µ-computed-tomography around a small-sized redox electrode

Graphical abstract (redoximorphism and climate change)
Natürliche und anthropogene Böden
Gley-Haftpseudogley aus Auenschluff über Auensand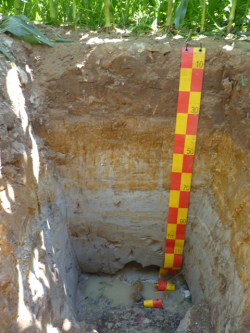 WRB: Mollic Gleysol (Eutric, Siltic)

Lage: Rheine, Nordrhein-Westfalen (Nähe Ems)
Brauneisengley aus Auenlehm über Talsanden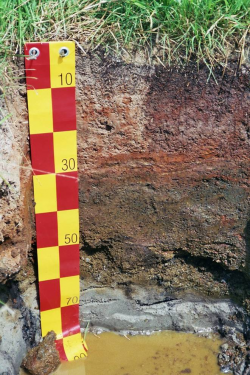 WRB: Haplic Gleysol (Petrogleyic)

Lage: südliches Münsterland, Nordrhein-Westfalen

Der Boden ist in den Oxidationshorizonten (0 bis 70 cm) durch extrem hohe Eisen-, Mangan- und Arsengehalte (bis > 1000 mg kg-1 As) gekennzeichnet. Diese Elemente sind mit dem Grundwasser aus der umliegenden Landschaft transportiert worden.
Pararendzina aus Hochofengasschlamm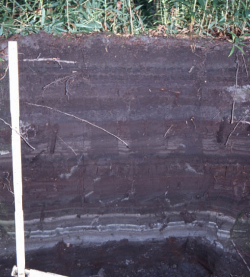 WRB: Spolic Technosol (Calcaric, Toxic)

Lage: Ruhrgebiet, Nordrhein-Westfalen

Dieser Boden hat sich aus einem Industrieschlamm der Roheisenproduktion entwickelt. Kennzeichnend sind eine extrem hohe Wasserspeicherfähigkeit (um 700 L m-2) und hohe Gehalte an Zink, Blei, Cadmium und Cyaniden.
Norm-Kalkmarsch aus marinem Mischwatt über Sandwatt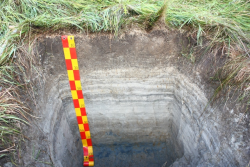 WRB: Gleyic Subaquatic Fluvisol (Calcaric, Eutric)
Lage: Speicherkoog, Dithmarschen
Humuspodsol aus Flugsanden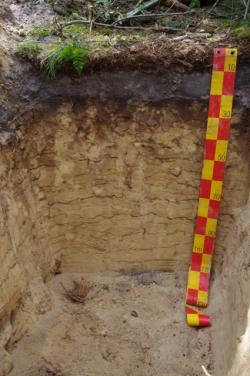 WRB: Haplic Podzol

Lage: Rheine, Nordrhein-Westfalen (Nähe Ems)
Paternia-Vega aus Auensand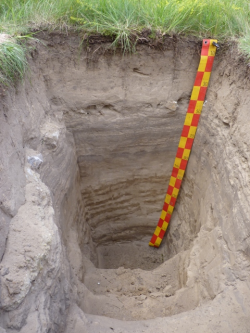 WRB: Haplic Fluvisol (Dystric, Arenic)

Lage: Rheine, Nordrhein-Westfalen (unmittelbar an der Ems)
Norm-Pararendzina aus Rohlöss
WRB: Haplic Phaeozem (Siltic)

Lage: Albig (Rheinhessen), Rheinland-Pfalz